Assalamualaikum. Hello. Just a quick post.
Seriously babies are developing too fast! Tak sempat nak catch up. Bangun tidur hari ni, pandai buat ini. Bangun tidur hari esok dah pandai buat benda lain pulak. OMG OMG OMG can I just freeze the time for a while?
Aku risau betul dengan potensi mengupdate blog these days. Kononnya untuk memori masa depan. Tapi sebulan berapa bijik post je yang wujud oi! (tampar diri sendiri berkali-kali). Nampak tak istiqomah tu dekat tahap mana.
Hari ni, spesifik - Voice search. Yes satu teknologi yang membolehkan kita search internet tanpa menaip; namun agak mencabar dan secara bersusah payah kalau tak kena dengan pronunciation. HAHAHAH.
Zara suka video lagu menyanyi dan menari dan berseronok riang gembira. Specifically, Barney & Friends, Didi & Friends, Mother Goose Club, Super Simple Songs and more to go. Paling tersuka adalah Barney. Macam the first one on the list. A-totally-100%-into-Barney. Apa-apa pun mahu Barney. Dalam bahasa dia, Barney adalah MARNEY.
Bila nak tengok video, she cannot wait. Dia nak benda tu depan mata like NOW NOW NOW MAMA WHY YOU SO SLOW. Kahkahkah. Sekarang dia dah pandai swipe sendiri cari sendiri secara hentam keromo. Babies these days kan. Hi-tech betoiiiii. Tapi nak search of course lah belum reti. Kekadang ads KFC cheesy onion chicken tu pun dia layankan aje. Hanyaaaaaa muuuuuuuuuuuuuuu.
Tetiba lalai teringat KFC. Kah!
So ada satu hari, sebab dia dah nak sampai tahap mengamuk dan menghempas, aku guna voice search. Sebagai seorang noob, aku sebut dekat mic tu dengan jelas, terang dan nyata.
B-A-R-N-E-Y.
Lalu muncul senarai video Barney dekat Youtube, dan dia memilih dengan girang dan gembira.
Jangan ingat sampai itu sahaja OK. Betul apa yang orang orang dan saintis saintis dan doktor doktor cakap, BABIES LEARN THROUGH IMITATION. They are live video recorder with 100GB RAM!
I was busy picking her toys and cleaning the kitchen area. And she was at the living room, playing on her own. Tetiba dia terserempak dengan iPad. Lalu dia duduk. Aku tengok aje lah dari jauh. Tiba-tiba dia tekan button tengah iPad tu dan sebut...
*tekan*MARNEY
*tekan*MARNEYYY
*tekan*MARNEYYYYYYYYYY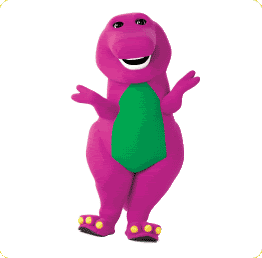 Sorry I didn't get that (Siri)
OH MY BABY! Nak tergelak wei!
Well, sampai sekarang dia masih belum putus asa guna Voice search bila dalam keadaan desperado. Masih duk MARNEY MARNEY MARNEY sehingga ibubapanya datang menyelamatkan bayi perempuan yang setia menanti Barney.
Harus mula beringat supaya menunjukkan contoh dan tauladan yang baik-baik sahaja di rumah. Doakan Zara membesar menjadi anak yang baik, bijak, solehah dan menggembirakan kami insyaAllah :)
Take care!